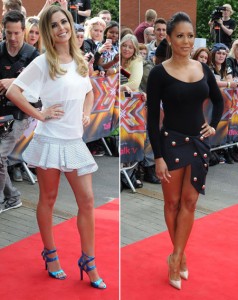 The X-Factor Style Jury!
Good Evening It certainly is getting chillier out there! Is it just me or is anyone else looking forward to a cosy night in watching X-factor this Saturday night?! Of course, our favourite part is the moment the judges are introduced and we get to check out the outfits the girls are wearing, which are usually talked about more than the actual show itself!! Does Simon seriously wear the same suit every year?! (sorry Simon!) And don't get us started on Louis' hair!
No doubt Cheryl and Mel B will be upping it in style stakes, so we were thinking it would be a good idea to get a little style jury started here at D & B – we love hearing everyone's comments and opinions so please comment here if you would like to take part  🙂 
Update : Saturday 1st, Halloween
What will the girls be dressed as for Halloween?
D & B