Hi Everyone,
We are back this week with a new post all about our products we have tried and tested products over the last couple months. We always find you most definitely need to try products out for few weeks before you can ever really give an honest review on them.
The products we are going to tell you about is the Vita Liberata Body Blur Tan , Image Vital C cleanser , Dermalogica pre-cleanse oil & age smart eye cream.  We absolutely love the pre-cleanse oil by Dermalogica . It literally melts away your makeup & any impurities that have built up on your skin , like magic.  This beauty will make your skincare routine so much easier & only the smallest amount is required so it will last for a good few weeks. Massage the product into your skin and use a little water to create a milky solution and then simply wash off, revealing clean, healthy skin. I use this product with the Image Vital C facial Cleanser as a double cleanse to ensure all traces of makeup , oil, or any impurities are wiped away .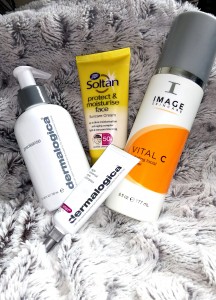 The most important skincare product you can have is an SPF and the Soltan range from Boots is great for covering all out our needs. We mentioned this in our previous post  for  Dolly & Bella in the blog post ' Love the Skin in Your in ' as it is a product that will always be part of our skincare routine. It is light and non-pore blocking so this can be worn under your makeup or mixed with your day cream if needed.
I genetically suffer with deep bags under my eyes and I have been using the Dermalogica age reversal eye cream and I can genuinely see a big difference & huge improvement compared to a couple of months ago. This eye cream is for use at night-time only as it contains retinol, a derivative from Vitamin A which can be harmful in large does    Again, only the smallest  is required and to use just lightly dab under the delicate eye area with your ring finger which will also help stimulate the surrounding area . It is a good idea to visit a skin specialist or your local salon that would specifically deal in skincare to see what products are best for you as not everything we post may suit your skin .
Another favourite product of ours has to be the Vita Liberata Tan.  This is my go to tan  and I really love this product.  I do not like my tan too dark so using the body blur gives me the perfect glow I need for summer days.  Without it been too cakey, it will cover any imperfections and the coverage is just medium, not too light or too dark, so it is a win win all around. This tan is the perfect product for the summer months ahead, giving a natural looking tan without the harmful effects from the sun.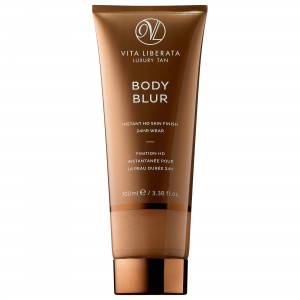 To keep up up with all of our  post's go to www.Dolly&Bella.com and for all the latest fashion and style tips from Dolly & Bella.
We hope you enjoying reading our post as much as we love writing them.
Dreams Blossom
Dream Big ,
J & L  X