Is it nearly safe to say the word Spring/Summer again?!
What will you be wearing this coming season? You will find the usual suspects for your S/S wardrobe in this season's threads, along with some sensational new trends, including 70's style fashion. Some people cower in fashion fear when they think of the 70's, with images of Debbie Harry in loud disco print springing to mind!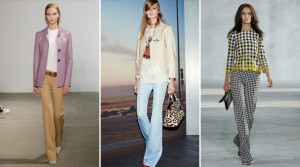 Whilst we loved Debbie for her 70'S disco style, this is more of a relaxed 70's feel; think Farrah Fawcett meets Bianca Jagger in a Studio 54 vibe with slightly flared jeans and waist-hugging trousers at the forefront of this trend.
Gingham is another trend that was all over the runway for S/S 15, with Diane Furstenberg dedicating her whole collection to the picnic print. Diane launched her own fashion label in 1970 and seems to be reliving the love for this trend as her S/S collection dominated the runway when it was showcased in New York last year. To make the print work for you, steer away from wearing the pattern head to toe, opt for modern styles and streamlined shapes and take inspiration from the designers that updated the trend this year.
Double denim shouldn't work, but somehow it does!  When I think of denim I always get haunting images of my ill-sized Wrangler denim shirt that now takes a place of pride in my fashion faux pas gallery, but there is stylish ways along with simple tricks to make this look work for you. Start with the obvious staple, jeans, and take a lighter shade of denim to complement the look and bring the whole piece together.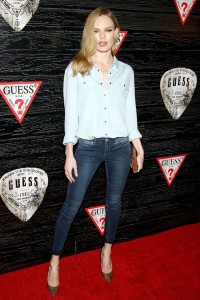 If double-denim isn't for you, take a slightly over-sized shirt dress and team with a belt and sandals to put a fashion spring in your step this season.
Stay Stylish <3
Dolly & Bella