Over-Size …..Everything !
Over-Sized outerwear is on everyone's lips this Autumn/Winter with coats, jackets and jumpers sweeping throughout this year's runways and the fashion world alike.  The absolute key to over-sizing with any fabric, is to counterbalance the bulk of the over-sized item with slim-line wear, for example trousers or skirts.  Skinny jeans and leggings are great casual pairings, while a fitted skirt or cigarette pants are dressier options. It can be such a stylish look and I love the warm, cosy feel this trend offers for super styling our way into the long winter days and nights!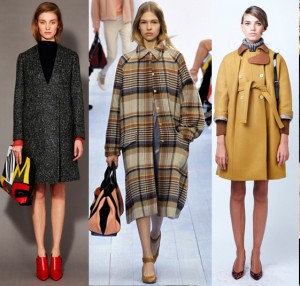 If you are afraid of this look swamping your frame you can always give some shape to baggy cardigans, jumpers and coats some shape by cinching it in at the waist with a belt. We love super thick tan belts this season for this trend and you will find it goes with everything and will dress up the over-sized look in an instant.
Over-sized coats can be very flattering if styled correctly; style with a pair of heels to help lengthen out your silhouette. From pretty pastels to tartan-print, over-size coats cater for every taste and style and as it will be the focal point of your entire outfit , pick a shade and style that suits you.
Lastly, a bit of over-sizing style advice: Opt for clothes designed to be oversized rather than something a few sizes too big! (Mistakes have been made in the past!)
Stay Stylish
x