Hello All,
Laura had suggested we should go the Ladies Day for the Galway Races and have a girls day out, so that is exactly what we did! I decided I wasn't going to buy a new dress or even look for anything else to wear. I had enough dresses that i have only ever worn once so i wasn't going to be feel the need to run out and buy something new that will only be hung up and never to be worn again . I decided I was going to wear my long pleated dress I purchased from ASOS last  October for my friends wedding.  This dress for me has  the perfect look for Ladies Day , it had the capped sleeve, delicate floral detail on the neck line and the pleated skirt which gave it a vintage feel and i loved it.  However,  I did bring it my local zipyard to have it altered as it was running big on the neckline .
This was my first ever time to attend Ladies day and never did i think i would ever be considered a finalist for best dressed lady. It was the best day attending the races and possibly the best experience I ever had .  I felt like I won with all the amazing feedback and comments.  To get into the finalist for best dressed was a prize in itself and something I will never forget!
To add to my look I accessorised with  cream lace gloves that I purchased from Glitzy Bitz in the Eyre Square Shopping Centre for €12.  My pearl embellished clutch bag was another bargain from  Penny's at €12 .  My rose gold shoes were also from ASOS & both my dress and shoes were  purchased for under €80.  My look was an affordable style and I made it work on a budget . I borrowed rose gold and diamond stud earrings from my mother. I worked around the style and feel of the dress and went with the vintage vibes and I loved wearing it. I had something old, something new and something borrowed and it worked.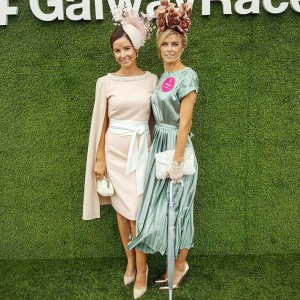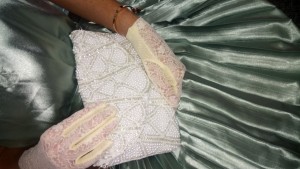 I contacted Brid O'Driscoll Millinery in Galway and we arranged to meet up and discuss what was best for my look.  Brid was absolutely fantastic and she immediately knew what to do when she saw what i was wearing. To say I was excited was an understatement.!  We went for a statement headpiece, a beautiful bronze headpiece with pearl details in a flower crown.
Brid O' Driscoll Millinery
My  hair was styled around my flower crown so it wasn't going to budge.  It was done by the very talented Amy from Bliss Hair Lackagh in Galway & Mairead from The Beauty Bar in Galway did my makeup which I loved.
It is a day full of excitement, style, fashion, fun and frolics. The minute you walk past the gates into the race course you see everyone's sense of style and so many different looks.  You get to see and meet so many new people,  it is an amazing experience .
 My gorgeous ladies style was beautiful also,  Laura wore Marion Murphy Cooney and Ted Baker nude court heels, & Eileen wore Self Portrait and heels from the Shoe Rack.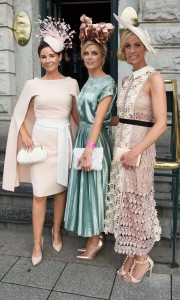 We have gotten racing fever, so we will be back.
Hope you enjoyed reading all about our day at the races.
Dreams Blossom
J & L
X