Destination Denim!
Denim is having a revival moment this season and we are fully embracing the trend from cropped denim jackets to patchwork jeans.
From Burberry to Gucci, designers worked denim pieces into their collections this season and revamped everyday denim with a modern, chic makeover. Stella McCartney dominated the trend for us, showcasing key separate pieces in the form of stream-lined jumpsuits and dresses. Gucci further completed the theme with shirts and culottes adorned with large embellishments, injecting a glamourous influence into the collection.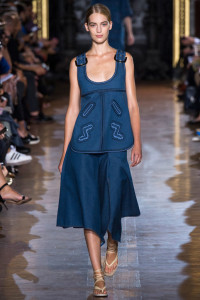 The great thing about denim is that you can resurrect tired pieces from your wardrobe and put your own modern stamp on them. We will be resurrecting our cropped denim jackets this Spring and teaming it with everything from cropped trousers to culottes.
In keeping with the 70's vibe, which is huge this season, high-waisted denim flares as showcased by Stella McCartney on S/S 15 runway, can be a refreshing addition to your wardrobe.  We have fallen head over heels for these light-blue Stella McCartney from Net-a Porter, these beautiful jeans are fitted to the knee and flare out to the ankle and embodies subtle flare with a modern edge.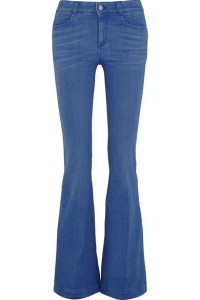 From catwalk to celebrity style, we have given our denim-wearing hearts to Alexa Chung's collaboration with AG jeans. The collection is not dedicated solely to jeans and consists of our version of perfected denim in the form of a dark wash dress, a denim miniskirt and cropped flares.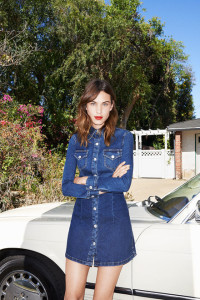 If you have not yet converted, pale-blue denim is the colour of S/S 15, so mix and match with any pieces in this colour to bring of bit of denim-like love to your life!
Stay Stylish
D & B