Hi All,
In this post we are talking about all things pleated , skirts, dresses and how we would style them. We know this particular style might not be for everyone, but it can be worn so many different ways and styled to your own taste.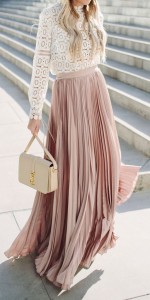 We are really loving the pleated midi skirts and dresses that are available on the high-street at the moment.   This style can be worn so many different ways and styled to your own liking.  What we love most about this style is that it is a welcome change from your pencil cut dresses and skirts & even our denims which we seem to live in!
With a pleated skirt you have the option of wearing it casually or to really dress it up.   For a more relaxed day time look, we would simply pair it with a t-shirt and a pair of  Converse , completed with a little leather jacket and you are good to go.  If you choose a pleated skirt  and are heading to a special occasion they are so many ways to style it.   A body suit will fit perfect with this look as the pleated skirt fits at the waist and the pleats in the skirt will create a more streamlined look from the waist down which will flatter the silhouette.
If you really wanted to add some texture and colour to the look try an Obi belt that will wrap around the waist and really give a finished look. It's a great piece to have in your wardrobe for the summer months and will definitely be something you will get wear out of it over the coming weeks.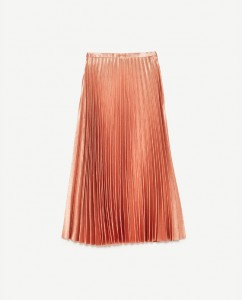 A pleated piece is actually very versatile , whether you are going for a festival look, summer evening style and even for that special occasion wear.   It really all depends on what way you want to style it.
Here is the 'All Night Long' pleated navy and gold velvet skirt from Dolly& Bella which we love . The colour and texture is so rich and classy, paired with a bardot navy body suit and court shoes you have the perfect evening look .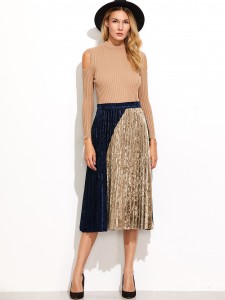 Get your pleats on Ladies & have fun with your style .
We hope you enjoyed our post as much as we love writing them.
Dreams Blossom
   J&L
     X