Here at Dolly & Bella, we are huge advocates of Irish design and when we first came across Chupi jewellery, we instantly fell in love with the intricate, delicate detailing of the designs.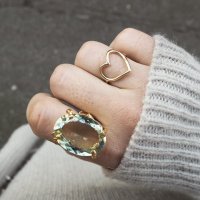 Chupi is a multi-award winning jewellery brand founded by former Topshop designer Chupi Sweetman. Chupi's influence is drawn by the imperfect natural beauty of feathers, twigs and leaves and each design is complemented by the sparkliest of gemstones. We love the personal touch the designer offers to her jewellery line and as I instantly fell in love with the collections, I opted to purchase the Silver Initial Necklace with Three Discs & Pearl Gemstone, choosing my family's initials on a three disc design.
Wearing my Chupi Silver Initial Necklace
The initials were such a intimate detail to have included in the piece and when it arrived, in the most beautiful packaging, I was even more stunned by how delicate and beautiful the piece was. When I am wearing the chain, it feels like I have a piece of my family close to me at all times and when a keep-sake item can make you feel that special, you know you have found a gem (excuse the pun!)
Not only are these collections beautifully created and crafted, each design has a story behind it and each item that is personable to you will last forever and can be passed down from generation to generation.
We look forward to seeing more decorative collections from the ever-expanding brand and the stories that each piece will tell.
Chupi is available to purchase on-line and in Arnotts Department Store, Dublin 1.
Stay Stlyish
D & B