As 2016 comes to an end, take the time to reflect on the year with no regrets as they only end up as wasted thoughts and energy. Learn from mistakes and grow from them, trials and tribulations make us the people we are and if we never dared to do something that challenges us, we are not truly living at all.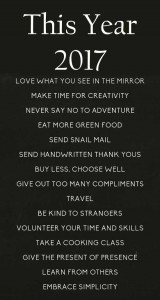 If you wish for 2017 to be your year to do that one thing you always wanted to do  , now is the time to do it! Do not wait for the right time to come or put off your goals or dreams if they seem unattainable , feel the fear and reach for the stars. Fear of the unknown or fear of failure can feel uncomfortable at first , but this same fear will help drive you and enable you to vision that goal or dream more clearly and deem it reachable.
There is more information over on  Super Sister Sessions page and is full of information on new courses and sessions running in the New Year. The first course will be Creating a Vision Board course which will be launching in February 2017.
Happy New Year to you all. Wishing you all a year of health and happiness and may all your wishes and dreams come true.
Dream a little dream xx